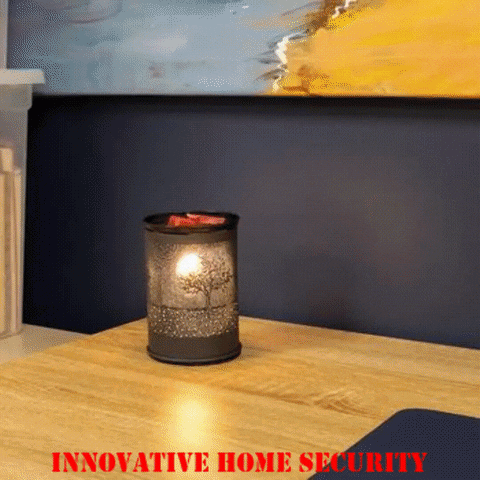 Are you in search of a unique and versatile home accessory that not only infuses your living space with delightful scents but also provides an extra layer of security and peace of mind? Look no further than the Bush Baby 4K WiFi Wax Warmer Spy Camera/DVR.
This inconspicuous device combines the soothing ambiance of a wax warmer with the cutting-edge technology of a 4K livestreaming Wi-Fi camera, ensuring that you can relax in comfort while staying vigilant.
Advanced Features for Your Security Needs:
The Bush Baby 4K WiFi Wax Warmer Spy Camera/DVR offers an array of advanced features that make it an exceptional choice for home surveillance:
Mobile Alerts & Motion Detection: Setting up your security system is a breeze through the free smartphone app.

You can receive mobile alerts and customize motion detection settings to suit your preferences.

External Memory: With the included 128GB MicroSD Card, you'll have ample storage space for your recordings, ensuring that you won't miss a moment of important footage.

100% Covert: Even if someone were to inspect the device closely, they'd find nothing out of the ordinary.

It's designed to blend seamlessly into your living space.

Flexible Recording Options: Choose from various recording modes, including time/date stamping, continuous recording, or motion detection-triggered recording.

This versatility ensures you capture the footage you need.

Easy Livestreaming: Whether you want to keep an eye on your home in real-time or review recorded videos, the free app for Android and iOS devices makes it simple to access and control your camera remotely.

Audio Streaming and Recording: Toggleable audio streaming and recording allow you to capture not only video but also important audio details.

Zoom and Adjustments: The camera provides the ability to zoom in during livestream viewing, and you can adjust contrast and brightness via the app for optimal video quality.

User-Friendly Manuals: SpyGearCo provides user-friendly manuals to assist you in setting up and using your spy camera effectively.
Technical Specifications:
App Compatibility: Android 6 & up, iOS 8 & up

Streaming Resolution: 1080P

Recording Resolution: 1080P or 360P

Recording Modes: OFF, 24/7, Motion Detection

Recording Consumption: 1GB per ~3 hours

Video Format: MP4

Viewing Angle: 90°

Storage: External MicroSD Card up to 128GB (Class 10)

Dimensions: 3.55″L x 3.55″W x 5.12″H

Power Supply: AC Power, Input Voltage: 120v 60 Hz, Plug Type: A
What's Included:
1 x Bush Baby 4K WiFi Wax Warmer Spy Camera/DVR

1 x BB4KWiFi Quick Start Guide

1 x 128GB MicroSD Card

1 x MicroSD Card Reader

1 x Light Bulb
Please Note:
For livestream and motion alerts, pairing with a router is required.

Compatibility limited to Android 6 & up and iOS 8 & up.

Wi-Fi connectivity may vary depending on the router.

Wax melts are not included with the purchase.
Incorporate the Bush Baby 4K WiFi Wax Warmer Spy Camera/DVR into your home, and enjoy the dual benefits of a pleasant atmosphere and enhanced security.
This innovative device seamlessly combines the traditional charm of a wax warmer with the cutting-edge capabilities of a spy camera, offering you both comfort and peace of mind.
Get Product Details and ORDER Bush Baby 4K WiFi Wax Warmer Spy Camera/DVR Here
Top Featured Products

Motion Detector Alarm Color Hidden Camera With Built-In DVR - Mini Alarm DVR with PIR Detection & Motion Detection The PIR MOTION DETECTOR HIDDEN CAMERA with built-in DVR is the best on the market. It doesn't just look...

Motion Detector Alarm Color Hidden Camera With Built-In DVR

SecureShot 1080p High-Def Electrical Box Hidden Camera/DVR w/NightVision - This ultimate electrical box SecureShot DVR offers features others only imagine. Our 940nm invisible IR illuminator array records in total darkness...

SecureShot 1080p High-Def Electrical Box Hidden Camera/DVR w/NightVision

USB Camstick Spy Camera w/Night Vision - The CamstickNV looks and functions like an ordinary flash drive. Yet this storage device conceals a DVR capable of recording both audio and quality color video.Motion activation mod...

USB Camstick Spy Camera w/Night Vision

SecureShot First Alert Smoke Detector Camera/DVR w/NightVision & 1 Year Battery - Our SecureShot Full High Definition 1080P Smoke Detector w/ 1 Year Standby Battery Camera/DVR is MADE IN USA. It features Amazing 1080P Full...

SecureShot First Alert Smoke Detector Camera/DVR w/NightVision & 1 Year Battery

Cross Hidden Spy Camera w/Built in DVR - The Cross Hidden Spy Camera with built in DVR is a tiny spy camera hidden inside a mini wearable cross.

Cross Hidden Spy Camera w/Built in DVR

Bush Baby Wifi Outlet - This functional 6 plug wall outlet can support up to six devices and even comes with two functional USB ports and comes in Black or White color. With this built in hidden camera you can keep track ...

Bush Baby Wifi Outlet

Mini Phone Charger Spy Camera/DVR - Functional phone charger. Our NEW Mini Charger Spy Camera/DVR is a small but powerful device. It offers Hi-Definition 1080p recording resolution hidden discreetly inside a functional ...

Mini Phone Charger Spy Camera/DVR

Bush Baby Stealth Hi-Def Outlet Spy Camera/DVR - FREE 16GB Micro SD Card - This wall adapter is perfect for just about any location. Its built-in camera on the front is positioned so that this ordinary looking object can b...

Bush Baby Stealth Hi-Def Outlet Spy Camera/DVR - FREE 16GB Micro SD Card

Secureguard 4K Ultra HD WiFi Battery Powered Fire Alarm Strobe Spy Camera - - 4K Resolution Battery Powered Spy Camera This Fire Strobe is WiFi enabled with a 4K Spy camera inside.You can remotely view and control the cam...

Secureguard 4K Ultra HD WiFi Battery Powered Fire Alarm Strobe Spy Camera

Secureguard 4K Ultra HD WiFi iPhone Dock Radio Spy Camera - Our Secureguard 4K Resolution WiFi Spy Camera is an iPhone Dock Radio with WiFi enabled with a 4K Spy camera inside.You can remotely view and control the camera ...

Secureguard 4K Ultra HD WiFi iPhone Dock Radio Spy Camera

Bush Baby 4K WiFi Two Camera Smoke Detector Spy Camera/DVR - ON SALE: $30 OFF!Are you looking for a smoke detector that covers all angles of the room? Then look no further. The Bush Baby 4K WiFi Two Camera Smoke Detector S...

Bush Baby 4K WiFi Two Camera Smoke Detector Spy Camera/DVR

Bush Baby 4K WiFi Dog Spy Camera/DVR - The Bush Baby 4K Wi-Fi Dog is the perfect device to protect your young ones. Whether you are making sure your child is staying out of trouble or keeping an eye on the babysitter no o...

Bush Baby 4K WiFi Dog Spy Camera/DVR
| | | |
| --- | --- | --- |
| | Be assured that your shopping experience is completely safe. The order site is secured using a Thawte SSL Web Server Certificate which encrypts all data to and from the site. However, if you prefer to pay with check or money order, just choose the off-line option when you check out. | |